"J's" Testimony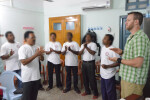 "J" was very involved in politics. He wanted to help his tribe and fought for them on the political stage. He fought for the rights of his people. He was popular and well liked by many people. But he was missing something in his life. God was preparing do do a great work in him. Eventually, because of his activism, he developed enemies who wanted him dead.
During this time in his life he had some faithful friends who began to witness to him. At first he rejected their attempts, but they kept coming back to his house. Eventually God broke through his barriers and he repented of his sins and confessed Jesus as his Lord and savior.
Now "J" is spending his life trying to reach his tribe for Jesus. He has been faithfully sharing the gospel and the Lord has granted several believers in his tribe. He is currently working with 2-3 disciple groups. Pray for him as he seeks to make Christ known among a people group who live in darkness.