India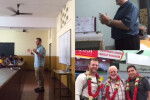 We left for India on Aug 3rd. 20+ hours later at 2:30 in the morning we were in our beds at the guesthouse. 7 am came early but it was exciting to be able to meet with our brothers and sisters in Christ here in India. We met with several groups who are trying to reach their communities for Christ.
We went to 5 different cities across India and worked with 4 different groups that we are training. There were lots of long car rides, cramped flights and spicy food but overall it was an uplighting experience.
It is encouraging to see the faith of these believers, despite persecution and hardship. Many of the men we work with risk their very lives to share the gospel. Pray for them as they go out to share their faith with those who are in darkness.