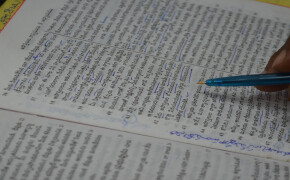 The Meridian Project is the recommended approach by Meridian to demonstrate through training and practice the effectiveness of orality training for the purposes of evangelism, discipleship, and church planting. This document contains a suggested schedule and 2 example lessons
It must be understood that the stories for evangelism are taught so that the storyteller may tell a long version of the stories or a short version of the stories. In locations where the stories are central to their life of entertainment, it is recommended that the long version be used. In a fast-paced environment, the short version can be told. However, it is our opinion that the long version has a greater and lasting impact on the hearers. The long version can be told in 12 story telling sessions, or in two sessions with the Old Testament told at one session (1 1/2 hours) and the New Testament at another session. The short version can be told in one story telling session of one hour, 30 minutes, or even 10 minutes. The determining factor is the amount of time a hearer will give.
A great weakness in rapid church planting is discipleship. This demonstration includes an introduction to discipleship but we have material for a year's worth of story- based discipleship lessons. Growing Disciple is taught the last day and surprisingly energizes the students. There is shared excitement as they experience the simple but thorough approach to every area of discipleship need.
The effectiveness of this course is the result of classroom practice, commitment to evangelism, determination to train others, and the resolve to take the stories to unreached peoples the students have identified. Church planting naturally follows when hearers understand and respond to the Gospel as told in the stories. Everyone will leave the course with a plan.
This course has a built-in strategy for multiplication. This training is the first step to filtering out highly committed communicators who can later be trained to become master trainers and master builders. Following Paul's admonition to Timothy to train others, our goal to is to evangelize, train trainers, and plant churches at least to the 4th generation.